RBCC Church Directory
Have you ever met someone during our Meet & Greet time on Sunday, invited them to lunch after service...and then forget their name as you drive over to Splash? Awkward, right? What about the stress when you promise to invite a couple to a Bible study and forget to ask for their phone number or email.
No shame. We all do it, but also, it's awkward.
The RBCC Church Directory is a private place for the people at RBCC to share their contact information with each other. For security and privacy reasons, only people who have been invited to join the directory and opted-in will be able to see the directory or share their information.
Access the Church Directory On Phone or Tablet
The best way to access the RBCC Church Directory is from your mobile phone or tablet. Download the Church Center app from Google Play store or the Apple App store for quick and easy access to the directory on the go.
When using the app, you can easily call someone by clicking on their phone number or send them a quick message by clicking on their email address.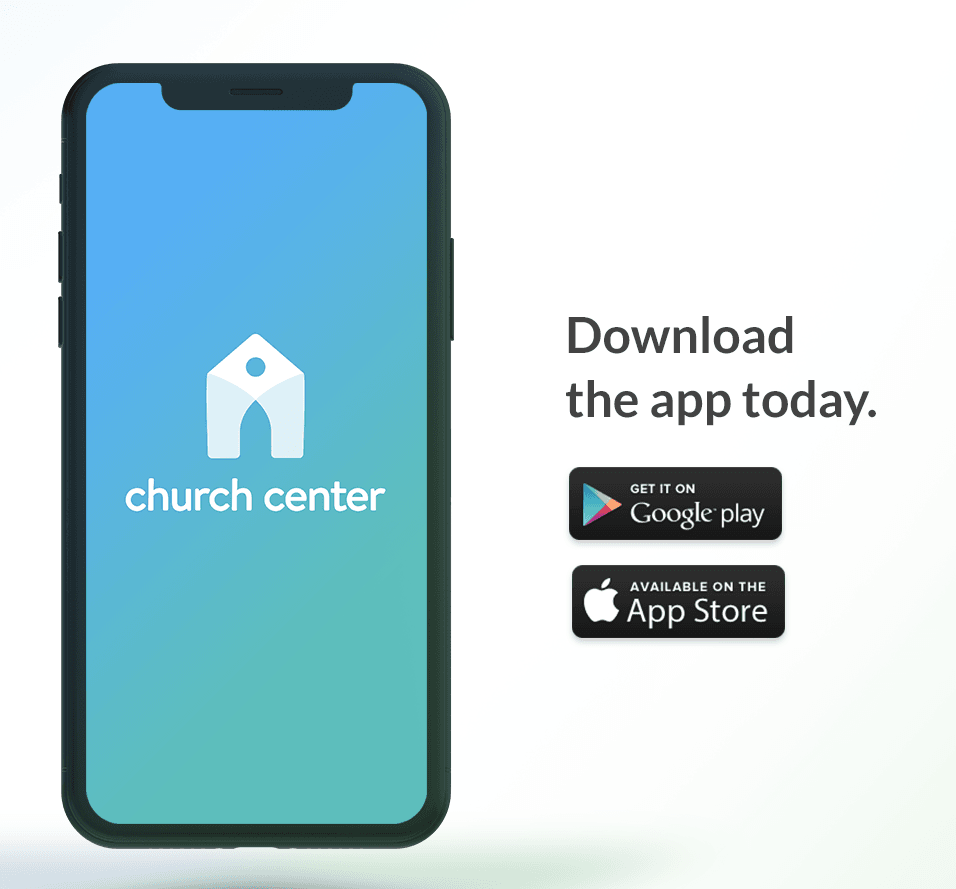 Access the Church Directory On Computer
If you don't have a smartphone or prefer to use your computer, you can also access the directory by clicking on the "Login To Directory" button below.
Update Your Contact Info
If you haven't already done so, please take the following next steps to help us make the church directory a great place for regular attenders of RBCC to connect:
Login to the Church Directory
Upload your individual photo (so others can recognize your name by your face)
Verify that the email address and primary phone number we have on file is correct (please update if missing)
Add your birthdate (we want to celebrate your special day, but promise not to share your age)
Add your wedding anniversary date (again, we want to celebrate your special day)
If you and at least one more person are members of the same household please upload a family photo
Select Your Info To Share
You have control over how much of your information you wish to share with others on the directory by enabling (green checkmark) the fields that can be displayed.
NOTE: Your information and photo will not appear in the directory until you enable it.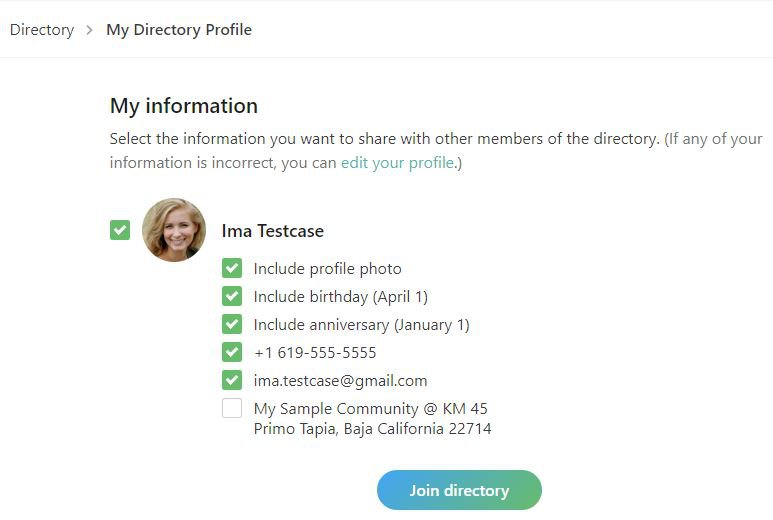 Based on the example above, here is what Ima Testcase's directory listing looks like. Since the address box is not enabled it is not displayed on the directory but all other fields are.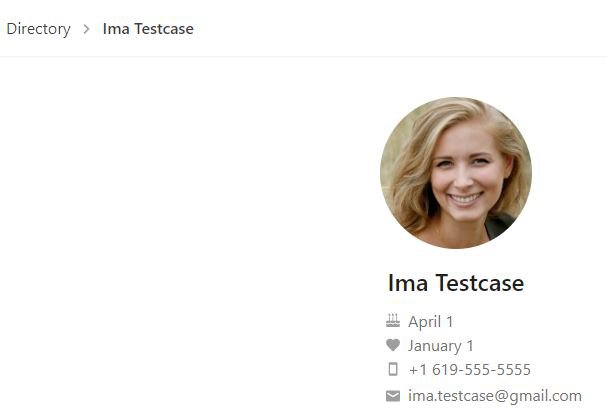 Respect Others
We know this doesn't need to be said, but to make our lawyers happy, you should know that this member information has been provided for your personal use and convenience. By using the RBCC Church Directory you agree not to use member information for spam, solicitation, slander, publication, or any other use that infringes on member privacy. Never share member information with others who are not regular attenders of Rosarito Beach Christian Church.
RBCC reserves the right to remove individual's access to the directory at its sole discretion.